Just a few tips to put who needs to be in the mood...
Guglia di San Domenico, Centro Storico - © Karl Blackwell/Time Out
Most exciting of all, perhaps, is the city's dynamic contemporary art scene, with a wealth of private galleries and two ambitious public museums. Naples' rich opera, Baroque music and theatre traditions stretch back for centuries, although the language barrier can be tricky to negotiate. Nightlife of all kinds is mostly ad lib, and for most recreational activities – aside from a run in the park – you have to get out of town.
--
Arts
Blindarte
Founded in 1999 as the first auction house in southern Italy, Blindarte opened a storefront contemporary art gallery above its subterranean offices five years later, soon to be expanded with a series of upper-level exhibition spaces. The young director, Memmo Grilli, is dedicated to exposing international emerging artists who work in a wide array of media, such as Brazilian conceptual artists Angela Detanico and Rafael Lain, American painter Adam Cvijanovic, and Italian artist Davide Cantoni, who burns his pictures on to paper.
Address
Via Caio Duilio 10/4d,
Fuorigrotta
Area Naples
Transport Metro Campi Flegrei/Cumana rail to Fuorigrotta
Museo d'Arte Contemporanea Donna Regina Napoli (MADRe)
For years, Naples lacked a proper contemporary art gallery - but 2005 saw the opening of two large-scale, publicly funded galleries,
PAN
and MADRe. The palazzo that houses this pleasant, well-appointed museum was completely overhauled by Portuguese architect Alvaro Siza, who created a main display space on the ground floor and three upper floors of smaller connecting rooms.
Granted, it's not Guggenheim Bilbao or Tate Modern, but it is a highly functional space. The first floor hosts site-specific installations by international artists such as Jeff Koons and Richard Serra; highlights include a couple of Joseph Kosuth's cryptic neon signs, Anish Kapoor's marvellously illusory blue space and Rebecca Horn's mirrored skulls. Neapolitan in exile Francesco Clemente also returned to fresco two rooms in their entirety. The subject is Naples itself, and the superstitions that make the city tick. Staff are numerous and knowledgeable, though not all speak English.
The upper floors are given over to temporary exhibitions; artists have included Jannis Kounellis (featuring his notorious dozen live horses), Rachel Whiteread and Robert Rauschenberg. There's also a bar and restaurant, where a visit can be combined with a lively aperitif.
Address
Via Settembrini 79
Area Naples
Transport Metro Piazza Cavour or Museo/bus 47, CS, E1
Open 10am-9pm Mon, Wed-Fri; 10am-midnight Sat, Sun (last entry 1hr before closing).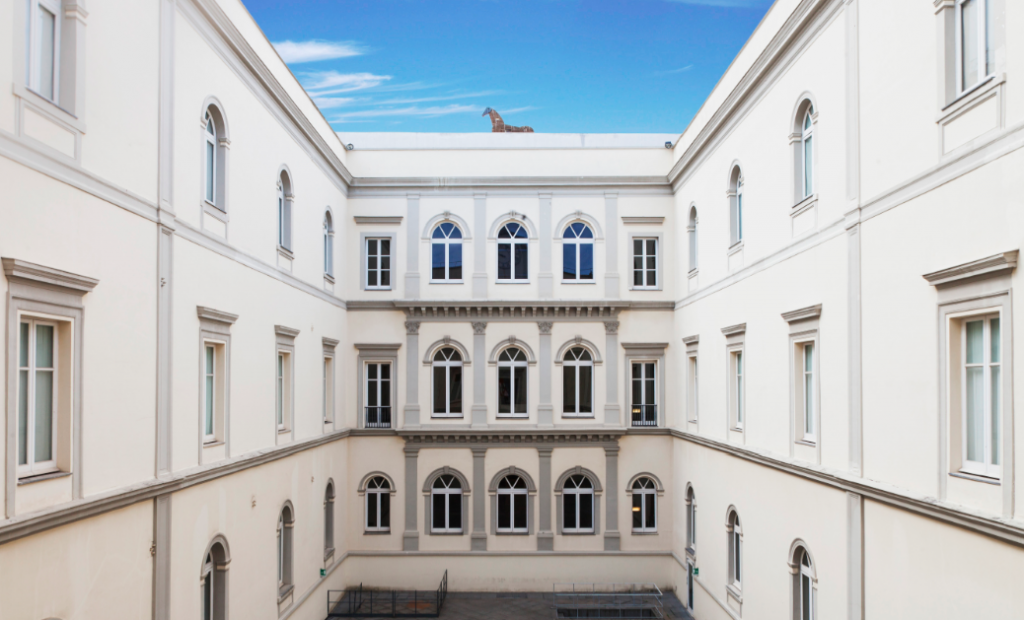 In the historical heart of Naples, the three floors of the 19th-century Palazzo Donnaregina host the Madre — Museo d'Arte Contemporanea Donnaregina: 7,200 m2 of exhibition space, with site-specific installations, as well as works from the permanent collection and temporary exhibitions
--
Palazzo delle Arti Napoli (PAN)
Palazzo art delle i Napoli (PAN) is an art gallery and a museum that is housed in a pink 16th-century palace located in Via dei Mille in the heart of Naples.
PAN has 6000 square meters to fill with art. It describes itself as a "centre for arts and documentation". PAN has no permanent collection of art, but it has amazing venue of exhibitions of contemporary art.
Three storeyed building with white small floors are filled with paintings, photographies and sculptures. There are works by many Italian artists displayed there such as William Kentridge and Dennis Oppenheim.
Contemporary art exhibition also involve multimedia, design, architecture as well as film screenings, book presentations, lectures, workshops, discussions and theatre events. There are also an experimental art lab, multimedia library, archive and a cafe-bookshop In PAN.
I am sure you would enjoy PAN when you visit Naples!
--
PAN has no permanent collection, but instead describes itself as a 'centre for arts and documentation'. A fourth-floor archive has catalogues and pictures of contemporary art activity in Naples stretching back over the last few decades. There are regular exhibitions (often drawn from the collections of other Neapolitan galleries), as well as film screenings, book presentations, lectures, discussions and theatre events. More off-the-wall shows have included a selection of Lou Reed's snapshots of his home town (the opening of the event was priceless, with the singer of 'Heroin' and 'Venus in Furs' politely greeting the somewhat traditional mayor). As a slightly labyrinthine collection of small rooms, it's not a great exhibition space - and with its mixture of activities, there's a sense that PAN is still trying to discover its true calling. It's worth keeping an eye on, though, as interesting shows often crop up.
Centro per le Arti Contemporanee, Palazzo Rocella, Via dei Mille 60
Area Naples
Transport Funicular Chiaia to Piazza Amedeo/bus C24, C25, C28, E6
--
Hermann Nitsch Museum
Set in a former electricity plant, with magnificent views that stretch as far as Mount Vesuvius and Capri, this museum and archive was opened in 2008 by the Fondazione Morra. It's dedicated to Viennese 'actionist' artist Hermann Nitsch's splatter paintings, and the relics of his orgiastic, bloody, theatrical mock crucifixions (by now more than 100). His work is strangely in keeping with the religious rites and iconography of the teeming Neapolitan streets, such as the 'miraculous' flowing of San Gennaro's blood in the Duomo three times a year. Collector Peppe Morra has sponsored Nitsch's performances since the 1970s; one,
Lehraktion
, took place in 1996 within view of the museum, at a hilltop vineyard owned by Morra.
Il Museo resterà chiuso per pausa estiva dal 2 al 30 agosto!
--
Attanasio Sfogliate Calde
Hidden in the backstreets near the station, Attanasio is worth hunting out if you have a sweet tooth. The reason:
sfogliatelle
. They are the finest in the city, thus the best in the world. Fluffy, sweet and spicy ricotta cheese wrapped in flaky pastry, hot out of the oven - heaven. The only dilemma is which type: triangular, millefeuille-style
riccia
or oval, pie-like
frolla
.
Address
Vico Ferrovia 2/4
Area Naples
Transport Metro Piazza Garibaldi/bus R2
--
Around Midnight
Local jazz musicians, along with combos from across Italy, play the standards here on most nights. The premises are small, and can become uncomfortably crowded, but the atmosphere is unpretentious and friendly.
Address
Via Bonito 32A
Area Naples
Transport Metro Vanvitelli/funicular Montesanto to San Martino/bus V1
Open 10pm-2am Wed-Sun. Closed July, Aug.
--
Feel free to add more and share your favourite sites.